[SocialistParty.org]March against racism: Refugee Rights Campaign has lively bloc
Posted On March 20, 2017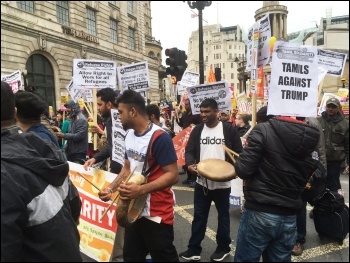 March against racism: Refugee Rights Campaign has lively bloc
Paula Mitchell
Banging drums and chanting.
Demanding the right to work, to stop deportations and end detention.
Tamil Solidarity's Refugee Rights Campaign – with the Socialist Party and Socialist Students marching alongside – has to have been one of the liveliest blocs on the March Against Racism on 18 March.
Thousands of people, many young, took to the streets to oppose racism and to resist Trump on the UN's Anti-Racism Day.
Refugee Rights was one of the largest contingents of black and Asian people on the march. With no response from the Stand Up to Racism organisers to requests to speak on the official platform, the campaign used the Socialist Party's sound system to make speeches and even sing as the crowds gathered.
They also heard from socialists and trade unionists, such as April Ashley and Hugo Pierre, who both hold black members' seats on the national executive of Unison and spoke in a personal capacity.
The Socialist Party is proud to campaign alongside refugees who put forward a clear, independent, working class appeal.
These Tamil campaigners understand that to win refugee rights they need more than general pledges of anti-racism. They demand investment in job creation and for all workers to be paid decent wages. They call for a £10 an hour minimum wage and trade union rights. They fight to defend the NHS, and for homes and services for all.
The Socialist Party agrees. Starting with the energy of the young people who have taken to the streets in recent weeks, linked to the potential power of the organised working class in the trade unions, a mighty movement could defeat racism.
This must be built around demands and slogans that unite working class people in a fight for a decent life for all.
Fight racism, fight austerity – fight for socialism!