Worse than prison: life inside Britain's 10 deportation centres
Posted On October 17, 2018
Thanks The Guardian
Blue flipflops, styrofoam plates and the daily clunk of the cells shutting: immigrants describe the grim reality of deportation 'jails'
In some senses they look, sound, smell and taste just like prisons: bland food, bleak corridors, standard-issue tracksuits and blue flip-flops, and the mechanical clunk at 9pm when everyone is locked in for the night.
But Britain's network of immigration removal centres are a case apart for the 25,000-plus people who pass through one each year: there is no rehabilitation, no criminal sentence, very often no time limit on the loss of liberty. Many of those incarcerated say the conditions are far worse than actual prison.
The Guardian has spoken to dozens of current and former detainees who have provided grim testimony about what life behind bars in these 10 facilities is like. They describe depression, limbo, occasional hysteria and an all-pervading angst on the part of those detained.
The internal architecture is bleak. To reach the visiting room at Harmondsworth IRC near Heathrow airport visitors must provide their passports, a biometric thumbprint, surrender themselves to detailed pat-down searches from surgical-gloved security guards and pass through several sets of locked doors.
A protest inside Harmondsworth detention centre – video
The cheerfully painted mural of the London skyline that decorates one wall of the visiting room (a touristy memory for detainees to carry with them before they are removed to other countries perhaps) is very different from the long, stark corridors with cold polished floors, metal grilles and cells furnished with little more than bunk beds, barely screened toilets and plastic chairs. For those deemed a danger to others or themselves there is the dreaded segregation cells known as "the block".
One former detainee, who once served a short prison sentence of just over three months, was then detained for almost double that time and described the conditions in detention. The Home Office wanted to deport him but two successive judges ruled that he should be allowed to stay in the UK where he has lived for almost 30 years so that he can be with his three children who are under 18.
"It's a two-bunk cell," he said. "One man is on the bottom bunk … two people are living in a small space. Sometimes the cell is locked, you cannot get out and the toilet is right there … for two people to use … no curtain to draw if you want to do number two … So you had to do number two in front of your cellmate."
'It's basically a death sentence' – audio
The food is repetitive and bland: chicken, rice and chips served on Styrofoam plates for fear that anything more robust could be used as missiles. Detainees can wear their own clothes but drab tracksuits and flip-flops are provided for those who need them.
Detainees say that some of the guards – private contractors from global companies like G4S – show compassion while others are cruel. Panorama'sundercover footage inside Brook House IRC near Gatwick revealed the latter.
What detainees really fear are meetings with Home Office officials inside detention centres. Many say that the officials pressurise them to opt for voluntary return even when they fear their lives will be at risk if they go home.
Cell lock-in times vary from one detention centre to another but some centres confine people to their rooms for 13 hours a day. An indoor smoking ban was introduced in February. During lock-in hours, some detainees have tried to circumvent the ban by lighting cigarettes using live wires from kettles or foil set alight in microwaves.
Televisions show a small range of channels, former detainees say. Phones are permitted but only for voice calls.
Detainees vary enormously in profile. Very few have served lengthy criminal sentences, a minority will have committed some minor crime, but as many as half will have done nothing wrong at all other than fail in their bureaucratic quest for permission to remain in the UK. This can result in people with very different profiles being locked up together.
One female detainee who was locked up in Yarl's Wood after being falsely accused of trying to enter a sham marriage with her long-term partner, spoke of her fear when she was detained. "I [was] actually quite scared because the person they've put me in a room with is a girl who's from prison… She is a drug addict and she is meant to be kept isolated because of violent tendencies, and she has attacked people in the past," she said in a Guardian podcast.
'You're not human to them' – audio
"A friend of mine who speaks Russian came to see me in the room and … this girl told her that if you don't get your friend the f*** out of here I'm going to cut her face up."
The biggest problem is the listless, indefinite detention which some have compared to death row in the US: people cannot bear the limbo, but at the same time do not want it to end.
A sample of almost 200 people from seven detention centres found that a majority were classed as "adults at risk": 51 had previously suffered from torture, 46 had major health issues and eight were considered a suicide risk.
"People here spend all their days in limbo," said Kweku Adoboli, one of thousands of detainees who every year are not deported but released back into British society.
"One week in detention suddenly stretches into a month or three. The men spend their days at the fax machine, in the library, or in the yard chain-smoking Amber Leaf tobacco roll-ups," he said of his time in Harmondsworth.
"They don't know how long they will be locked up because immigration detention in the UK has no time limit. The sense of hopelessness is etched on to every face and strains every conversation."
Fewer than 50% of detainees will actually be removed from the UK. According to recent Home Office statistics, about 55% are released back into the community rendering their incarceration pointless. Many say they will never recover from this experience.
One Jamaican woman, Romana, who was held for 149 days in Yarl's Wood while she was pregnant, said that she is unable to erase the trauma of being locked up from her mind. "Although it's a long time since I was released from Yarl's Wood, I still get flashbacks where I think I can hear the sound of the keys the guards have rattling as they walk around."
"Being in Yarls Wood was horrifying – that place is a prison," said Savita Vyas, 33, who has lived, studied and worked in the UK for more than a decade, but was refused a spouse visa earlier this year.
"I was shocked when I was arrested and detained," she said. "I had been living a very nice life in the UK, working, paying my taxes, paying my health surcharge, paying my visa application fees. I didn't know very much about detention. I didn't know this world existed.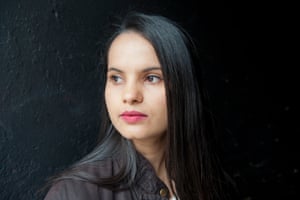 Savita Vyas Photograph: Jill Mead for the Guardian
"I want to try to move on and forgive and forget what happened to me in detention," she said. "But I'll never be able to forget that feeling of being an animal being taken to the slaughterhouse."